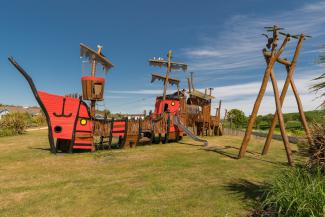 Robinson Crusoe Adventure Park
Discover the magic of Robinson Crusoe
Robinson Crusoe Adventure Park
The Robinson Crusoe Adventure Park at Elie Holiday Park, Shell Bay, reflects the area's connection with famous Lower Largo sailor, Alexander Selkirk.
The impressive galleon is surrounded by palm trees and takes the form of a two-masted sailing ship linked to a fantasy desert island. Children can climb the rigging, scale the poop deck and crawl along the cage to the Island of Despair. Located close to the Fife Coastal Path at Shell Bay thousands of wannabe castaways have enjoyed reliving the Robinson Crusoe story in this corner of Fife. 
Relive the adventures of Robinson Crusoe
Contact details
The Robinson Crusoe Adventure Park
Elie Holiday Park
Shell Bay
Elie
Fife
KY9 1HB
Opening hours
The Robinson Crusoe Adventure Park will re-open for the 2023 season.


Find us here
Did you know?
It was Alexander Selkirk's castaway experiences at the beginning of the 18th Century on an island in the archipelago of Juan Fernandez (off the Chilean coast) that provided the inspiration for Daniel Defoe's famous book, Robinson Crusoe. Elie Holiday Park at Shell Bay is perfectly placed for all sorts of adventurers, young and old. You can enjoy clifftop walks high above the waves into Elie, or take the picturesque Fife Coastal Path to Lower Largo and stay at one of the Robinson Crusoe Retreat Cottages, the birthplace of Alexander Selkirk.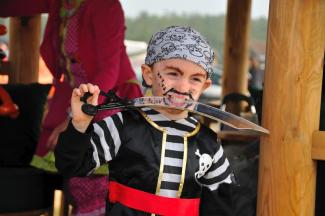 Smugglers' Cove Games Room
From driving games to air hockey, a pool table and traditional arcades, there's plenty to keep everyone entertained at the Smugglers' Cove Games Room (located next to Ruddons Bar).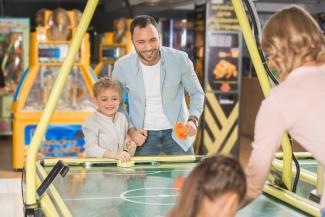 Robinson Crusoe, The Movie
Enjoy the film and then relive the adventures at the Robinson Crusoe Adventure Park (Elie Holiday Park).
Get ready for a new take on a classic tale as we get lost with Robinson Crusoe and a bunch of adorable animals on a desert island. From the makers of A Turtle's Tale and The House of Magic comes a fun-filled adventure for the whole family to enjoy.