Celebrating International Women's Day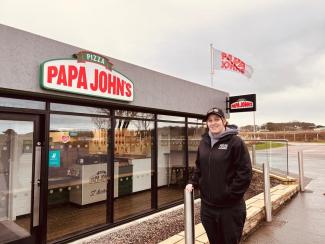 On International Women's Day, Sarah Menzies, Store Manager at Papa Johns (St Andrews Holiday Park) shares her story and celebrates the inspiring women that have helped shape her career.
What is your role and how long have you worked in a Papa Johns store?
I am the Store Manager at St Andrews. I have been there for four years, from April 2023.
Describe your career journey/what led you to this position?
Whilst at university, I worked for Subway and then took on a second job as a Domino's Delivery Driver. Through hard work and determination I began working in-store and developed my passion for pizza making. Within a year, I became the Store Manager.
When my wife and I became foster parents, it was hard to work the shift patterns, and I didn't feel supported. Being a woman, juggling a family with a management position was challenging. So, I returned to Subway on more flexible hours and worked as Store Manager.
In 2019, Abbeyford Leisure opened Papa Johns in St Andrews. I immediately thought of the days of slapping pizzas and how much I missed the buzz. I got the job, worked hard, and in 2021 I became the Store Manager.
Abbeyford Leisure has supported me throughout many personal challenges. They have a great sense of working together like a family. They have shown me that everyone matters regardless of your level and there is room for growth, no matter your gender.
What do you love about your job?
I love the buzz on a busy shift when everything I've been doing all week pays off. I love the smiles on the customers' faces - even more so when they come back the following week because it was so good the first time!
I get a thrill out of guiding and teaching the next generation how to make the perfect order - how to communicate with customers and most importantly, to be the best versions of themselves. It is important to me to manage a store where everyone is welcome regardless of who they are.
Did you have to overcome any challenges or obstacles during your career? If so, how?
In June 2022, I was hospitalized with endometriosis. I underwent a major operation and was unable to work for six weeks. As a woman, I worried that I would be seen as weak. There is still a stigma around women's health - this can be a barrier for some people.
Who are the female role models who have inspired you in your career and what have you learned from them?
My mum taught me from a young age how to cook and allowed me to learn. She was patient and made me believe I could do anything I put my mind to.
I was also inspired by the artist Pink - in terms of believing in and bettering yourself. She taught me that there is no such thing as gender rules. No task is gender specific, and I like to challenge that concept. Her music also showed me that it's ok to be who you are no matter your past or where you're from.
In your opinion, what are some of the biggest obstacles that women still face in the workplace and what can be done to address them?
There are challenges for women having a family. Some women go on maternity leave and are worried that they may not return at the same level. Employers can support women by having flexible policies to help get them back to work.
It is also more difficult for women to achieve promotions because of gender stereotypes. Giving men and women equal opportunities to work towards set goals would increase the chances of more women being successful.
How have you seen the conversation around gender equality change over the course of your career and what do you see as the most important issues moving forward?
When I started my career, I worked in a male-oriented business with little for women to aspire to. Over the years, this has changed in a positive direction. I have had female managers who have given me great advice and support. I can't thank them enough for giving me the tools to succeed.
What advice would you give to young women who are just starting their careers?
Things will happen that you weren't expecting and you will make mistakes, learn from them. Don't give up! If at first you don't succeed, try, and try again. Set yourself goals, make them achievable and work hard to get there.