Charity starts at (holiday) home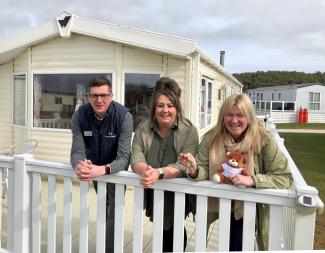 Hundreds of Fife families suffering from the cost-of-living crisis will soon be able to enjoy a holiday by the sea for free, thanks to Abbeyford Leisure.
Pictured above: Bryan Simpson, Park General Manager from Abbeyford Leisure, Kelly Rodger, Team Leader and Pauline Buchan, Manager from the Cottage Family Centre
The holiday company, which has cottages and award-winning holidays parks across coastal Fife, has gifted a holiday home for the sole use of the Cottage Family Centre charity and its families.
The modern two-bedroom holiday home comes complete with an extensive deck, spacious lounge, a fully equipped kitchen and is idyllically set behind the sand dunes at Elie Holiday Park - just a stone's throw from the beach at Shell Bay.
Peter Davies, Abbeyford Leisure's Head of Marketing Operations said: "We're delighted to continue supporting the Cottage Family Centre. We started working with Pauline and her fantastic team around a year ago by donating much needed inventory for their Big Hoose Initiative and last summer, we boosted our commitment to the charity by giving away several free holidays to some of the families they support.
"We know that for many families, their time away with us was their first ever family holiday, so this year we wanted to go one step further and help create more magical memories. Our Chairman, David J Evans, is a great advocate of the Family Centre and was so inspired by all the work that they undertake, that he wanted to gift a holiday home to them so that many more families can enjoy a break away at Elie Holiday Park for years to come."
Pauline Buchan, Manager of the Cottage Family Centre said:
We have been absolutely blown away by the ongoing care, support and generosity that David, Peter and all the team at Abbeyford Leisure have shown our children and families, the difference they have made to their lives is beyond measure. This holiday home will not only provide opportunities for our children and families to have some time out from the challenges they face on a daily basis but it will allow them the opportunity to make new positive and enriching memories that will last a lifetime.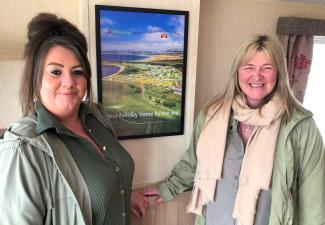 Located on the Fife Coastal Path just outside Elie and Earlsferry, Elie Holiday Park is home to the UK's only Robinson Crusoe Adventure Play Park and has a restaurant, café and family friendly bar and has welcomed holidaymakers and day-trippers for generations. St Andrews Holiday Park, St Monans Holiday Park and the Robinson Crusoe Retreat Cottages in Lower Largo are also part of Abbeyford Leisure's holiday portfolio.
The Cottage Family Centre was originally developed by a group of local parents and was established in 1987. Its purpose is to provide a family centre which caters for the needs of children aged 0-16 years and their families.
The Cottage Family Centre adopts a community development approach that puts the needs and aspirations of families and children at the centre of its service development and delivery and encourages their participation in the management and development of the Centre.