Life-saving defibrillators at every Abbeyford Leisure holiday park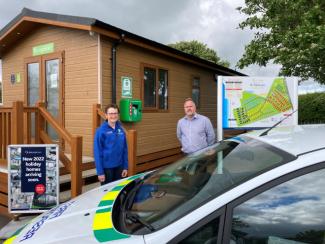 Each of Abbeyford Leisure's three holiday parks in Fife now has a potentially life-saving piece of equipment installed in the form of a defibrillator. The Public Access Defibrillators (PADs) can be found at the Group's popular Elie, St Andrews and St Monans Holiday Parks.
No clinical training is required and any member of the community is able to access and use the PADs should anyone suffer from a cardiac arrest.
Abbeyford Leisure's Operation Manager, Michael O'Reilly (pictured above), said: 
We welcome thousands of guests to our holiday parks every year and many more pass through including day trippers and locals, so it's reassuring to know that we have these potentially life-saving devices should the unthinkable ever happen.
Gillian Duncan (pictured above) from East Neuk First Responders, said: "We were delighted when Abbeyford Leisure approached us for a PAD to be installed at their St Monans Holiday Park. Thankfully the one at their Elie Holiday Park has not needed to be used, but the reassurance it gives to those living or visiting the East Neuk cannot be underestimated. We thank them for their donation."
Although a cardiac arrest can happen to anyone at any time, the astonishing fact is that early use of a PAD and CPR can increase a person's survival by up to 70%, according First Aid for Life. 
Hamish Tait (pictured above right) from Operation Heart Start who arranged the installation of the PAD at St Andrews Holiday Park added: "These little machines are true lifesavers and anyone can use them. They shock a patient's heart into restarting and are sophisticated enough to talk the user through the whole process. This latest install means we have almost 50 PADs in and around the St Andrews area. We'd like to thank Abbeyford Leisure for their support."
This short video shows how easy they are to operate. 
East Neuk First Responders is an independent Community Resuscitation charity, working to improve the survival and outcome of people who suffer life threatening emergencies in the East Neuk. Totally funded by public donation they support their community with Lifesaving equipment, community training, First Aid event cover, health awareness and more!
Operation Heart Start is a registered charity which serves the population of St Andrews and the surrounding community.