The calmness of wild swimming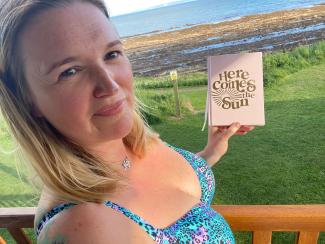 I'd heard that Fife's recently revamped tidal pools were quickly building a reputation for being top wild swimming spots in Scotland, so when a trip to the East Neuk beckoned, I jumped at the chance to check them out for myself.
Hubby, the kids and I stayed at St Monans Holiday Park, a small and peaceful idyl close to St Monans' iconic windmill set between the East Neuk villages of Elie and Pittenweem, just over an hour's drive from Edinburgh.
I'd seen on the website that our holiday home was right on the coast and when we stepped out onto our decking the sea views across the Forth estuary certainly lived up to the hype. You can see the Isle of May and over the water to North Berwick in East Lothian - another one of my favourite places for wild swimming. 
Jojo Fraser (pictured above) is a motivational writer, speaker, presenter and advocate of cold water immersion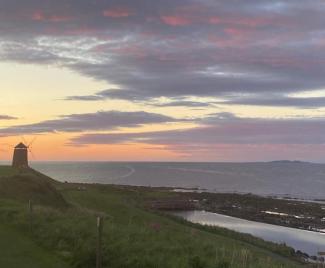 My shoulders instantly dropped as I breathed in the fresh sea air and tuned in to the sound of the waves.
After unpacking, we popped out to sample Scotland's best fish and chips from the world-famous Anstruther fish bar, just a short drive away. And as our view was so good, we took the food back to enjoy on our balcony.
The long summer days meant I had time for a late evening dip - my first swim of many over the weekend. The tidal pool is just a couple of minutes walk from our holiday home and was simply magic - I think the kids were just as excited as I was. I met with a lot of the locals and had some wonderful chats in the water. The wild swimming community is just such a friendly space, full of beautiful humans taking time to nurture their health. Time in a tidal pool such as St Monans works wonders for our physical, mental, emotional and spiritual health and I often find clarity after a swim. 
I often take a mantra into the sea with me. I like to say 'it is well', 'it is freezing and I love it' or 'I can find true peace in the water'. 
I felt super safe being in a tidal pool, knowing I couldn't get too out of my depth or swept into a riptide.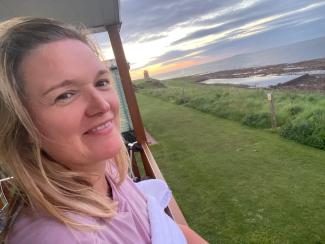 There is a large basket-style swing on the grassy bank next to the water. I just love going on these with the kids. They always shout 'Mum, it's your favourite swing' when we see one. I could happily lounge on one of those hammock-like swings staring at the sea for hours on end. St Monans Holiday Park is also close to the beautiful beaches at Elie & Earlsferry – the sand is so soft and pristine and the sea so clear.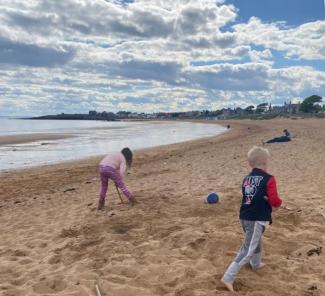 Around the headland from Elie & Earlsferry is Elie Holiday Park and Shell Bay, another picture postcard beach backed by sand dunes and framed by magical rock pools at low tide. As Abbeyford Leisure guests, we had full access to the park facilities (about a 10 minute drive from St Monans) and reminisced about our last family holiday there before the pandemic.
The kids couldn't wait to explore the Robinson Crusoe Adventure Park again and we enjoyed a relaxing takeaway coffee, panini and ice cream from The Mirador Café.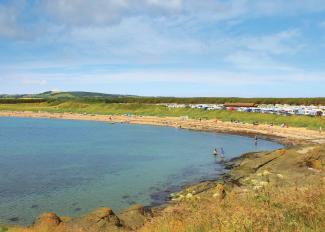 As well as the stunning tidal pool at St Monans there are another two tidal pools to check out within a short drive. Pittenweem tidal pool can be found at the next coastal village of Pittenweem and has become very popular with locals and wild swimming fanatics like myself. Until two hours before high tide, there's a small area of sandy beach. At high tide, you can still swim but the sea will cover the walls and you may get some waves. It is important to do a safety check when you enter the water. The local swimmers at St Monans also let me know about another hidden gem, Cellardyke tidal pool, which is along from the Anstruther fishing village which I'll have to save for my next trip.
St Monans tidal pool and holiday park is on the Fife Coastal Path which is fantastic for walking, running and exploring. My daughter, Bonnie, was delighted to find me a super sparkly stone which she commented 'this is for you Mummy because you always sparkle'. Simple moments like that, by the sea mean the absolute world to me.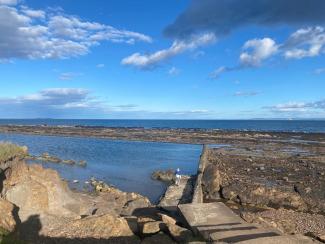 I also managed to get up for a couple of sunrises, which is not my normal style. I am often more of a sunset lover than a miracle morning type. But it was so peaceful to sit and watch the sun come up. Living with a sea view should always be cherished and I was so thankful that I wanted to enjoy it and fit as much as I could into what was a glorious weekend. We stayed in a Castaway Vista holiday home and St Monans would also be wonderful for a romantic getaway or even solo trip because it is so peaceful and calming. I would highly recommend a stay and several swimming sessions. Jump in and feel lighter, be kind to yourself and always make time to disconnect. You deserve it.
Words by JoJo Fraser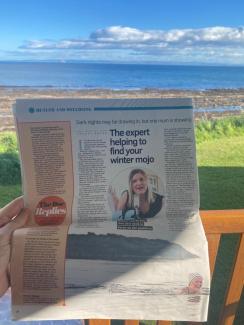 Jojo Fraser is a motivational writer, speaker and presenter who helps people get their mojo back.  She has been a mental health researcher for over 8 years and loves to put an entertaining spin on things, making topics around wellness, lifestyle and mental health current, accessible and relatable. She has been awarded a "WOMAN OF INSPIRATION AWARD" in the 2019 honour list by the Association of Scottish business women and runs Scotland's popular wellness blog, 'Mummy Jojo'. 
Enjoy wild swimming responsibly. Please check out these safety tips.