Papa Johns St Andrews crowned the fastest pizza makers in Scotland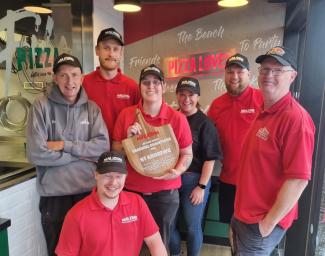 If you like your food to be fast, look no further than the speedy pizza-making team from Papa Johns St Andrews, who have officially been crowned the quickest crew in Scotland and one of the four fastest pizza makers in the UK.
Pictured above: Store Manager, Sarah Menzies (holding trophy), with Supervisor, Sean Brothers (left), Franchise Business Manager, Tracy Smith (right), together with some of the Papa Johns team at the St Andrews Holiday Park store.
The popular pizza delivery chain invites its stores across the country to take part in the Papa Johns Pizza Games – an annual pizza making competition – to test their skills at box-folding, dough-slapping and pizza cooking in record breaking time. This year, the speedy crew at St Andrews were officially crowned champions of Scotland.
Competing in several rounds and beating countless other stores across Scotland and the North of England, the super slick St Andrews team reached the grand finale at Papa Johns' headquarters in Milton Keynes, Bedfordshire.
After proving themselves at the games and winning over judges by not only cooking up the fastest pizza at the best quality but also finishing an almost perfect-looking pizza with their eyes closed, the team returned proudly to St Andrews with a new accolade.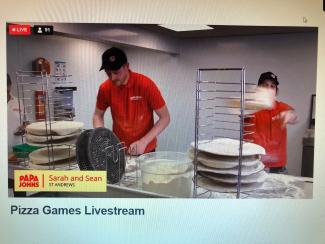 Flying the flag for Scotland, Store Manager, Sarah Menzies said:
The competition was intense and we're over the moon to have received this award. Papa Johns is all about Better Ingredients and Better Pizza, so it's not just about speed. Yes, you have to be fast, but precision is equally important, and a quality-finished pizza is paramount, otherwise the judges will mark you down.

"Our dough is always fresh, never frozen and you have to be skilled to know how to work it quickly. No-one wants a holey or uneven pizza! We're used to working fast and that's what creates a buzz in the store on a busy shift. Pizza is a social meal, it brings people together and we love exceeding customer expectations."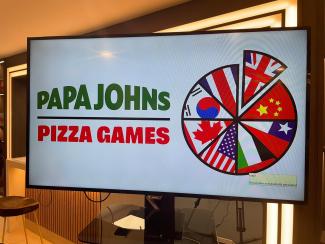 Papa Johns' Franchise Business Manager, Tracy Smith, said:
We're so proud of Sarah, Sean and the team at St Andrews. They always focus on creating the very best pizzas and their performance through the regional heats and UK final was phenomenal. They wholeheartedly deserve the Regional Champions Accolade."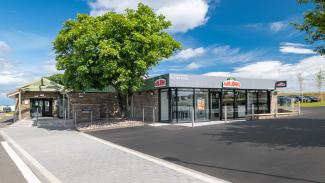 Speaking on the launch, Kevan Fraser, Facilities Manager at St Andrews Holiday Park who collaborated with Papa Johns to launch the St Andrews store said:
We knew there was a gap in the market for quality takeaway pizzas in and around St Andrews and quickly established a loyal following for Papa Johns.

"We're a big brand name and our customers know they'll get a quality pizza whenever they order a Papa Johns, but of equal importance is our commitment to and interaction with the local community - residents, visitors, students and businesses alike - that's what resonates with our customers and sets us apart."
Pizza lovers looking to order a great-tasting pizza made in record time can order from the St Andrews Store and via the Papa Johns app or online now.