Tourism boost for St Andrews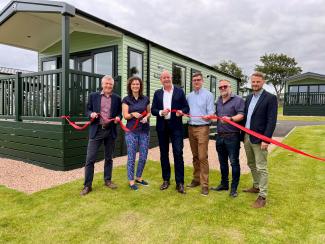 Fife tourism has received a welcome boost this summer thanks to a new development of holiday homes in St Andrews.
Pictured above: North East Fife's MSP and MP - Scottish Liberal Democrats Willie Rennie and Wendy Chamberlain, with Abbeyford Leisure's Kevan Lodge, Bryan Simpson, Michael O'Reilly and Peter Davies.
Fourteen new Castaway Sands homes have officially been unveiled at Abbeyford Leisure's flagship St Andrews Holiday Park resort.
Set on the hillside at Kinkell Braes with views towards East Sands and St Andrews Bay, each home comes complete with a covered veranda and electric car charging point as standard.
The two- and three-bedroom properties form part of Abbeyford Leisure's Spires View development created exclusively for holiday guests.
North East Fife's MP and MSP – Scottish Liberal Democrats Wendy Chamberlain and Willie Rennie - officially unveiled the holiday homes which opened in time for Scottish school holidays.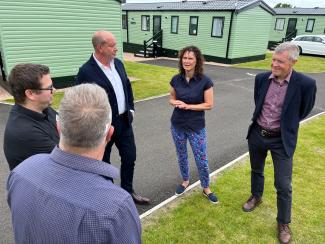 Enjoying a tour of St Andrews Holiday Park, Mr Rennie said,
"It was great to see Abbeyford Leisure's latest development. North East Fife is a top tourism destination and high-quality accommodation like this is essential to making the most of that potential."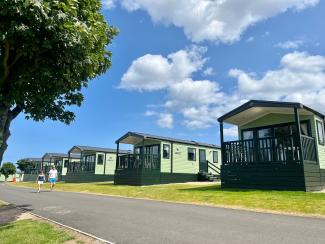 Ms Chamberlain echoed Mr Rennie's comments adding,
"St Andrews welcomes tens of thousands of visitors every year and there is a need for more of this type of accommodation across Fife. The benefit to the local economy of low-impact developments such as this cannot be underestimated."
Abbeyford Leisure, Director, Kevan Lodge said, "Our new Castaway Sands holiday homes have proved to be an immediate hit with 100% occupancy achieved across consecutive weeks during the Scottish summer holidays.
"We welcome a host of different guests to our Fife holiday parks each year including golfers, families and couples. We're delighted to add this latest range of Castaway homes to our portfolio which will not only help meet the needs of guests from Scotland and the UK, but also those coming from further afield."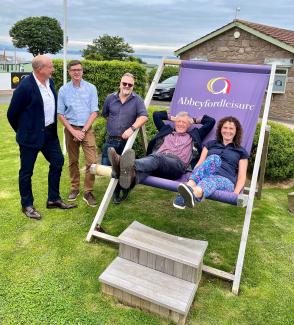 Peter Davies, Head of Marketing Operations said, "Our Castaway homes are synonymous with the quality that guests associate with Abbeyford Leisure. We first introduced our Castaway range at Elie Holiday Park in 2015 and guests loved them. To help meet demand we created a larger development of Castaway Forest homes at Elie and a little later, the first Castaway Vista home at St Monans Holiday Park too."
Mr Rennie and Ms Chamberlain were VIP guests of Abbeyford Leisure which has operated holiday parks in Fife for over 40 years, investing continually in new guest facilities and attractions.
Located by the Fife Coastal Path, St Andrews Holiday Park also provides luxury holiday homes to own, lodges with hot tubs, plus pitches for touring caravans and motorhomes. There's also a Papa Johns Pizza store and The Braes Bar & Restaurant which services the park and local community.