Sun, Sand and Seaweed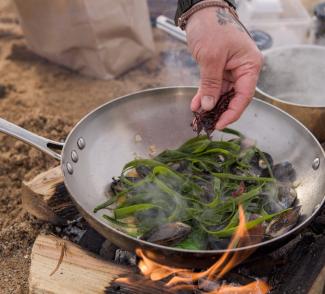 "Biscuits!" exclaimed the youngest as we entered our holiday home. "Wine," thought dad as the complimentary gifts welcomed them in the kitchen. 
Neither may sound particularly important but when added to a view of pinewoods and the stunning coastline of the East Neuk of Fife it meant staying at Elie Holiday Park felt like a true escape.
We had plans to cook pizza on the first night but little eyes had been drawn away from the modern gas cooker and good choice of utensils to the Kincraig View Restaurant – named after the wee hill above the Park which is well worth the walk up to admire a superb view across the Firth of Forth and out to sea.
The Original Kincraig Burger did not disappoint – with the haggis, bacon and relish making it a real feast. As dusk turned to dark the decking area of the holiday home was a brilliant place to return to and gaze up at the stars in a dark sky with none of the light pollution we were used to at home in the Central Belt.
Home was only an hour's drive but we felt a lot further away as the next day dawned bright and sunny. Refreshed from a comfortable night in well appointed beds with fresh linen and a powerful shower, we had decided to head to the coast. Why wouldn't you when this stretch is some of the best in Scotland?
Shell Bay, right next to the campsite, was ideal for a quick stroll, and maybe a sandcastle – in summer it is perfectly sheltered for a paddle and a swim. But we were heading down the coast, not to the delights of St Andrews or the picturesque harbour of Crail, or even a stroll along the Fife Coastal Path – enjoyed by thousands every year and easy to do in short sections.
We were heading to meet Jayson Byles who runs East Neuk Seaweed. He took us onto the shore near St Monans, ten minutes down the road, and introduced us to the bountiful supply of food, just waiting to be picked. "We are blessed with an ocean floor of food out there," enthused the New Zealander.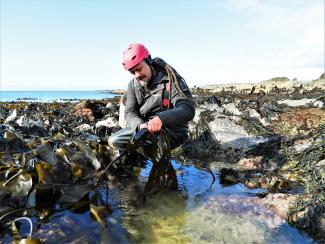 Seaweed is just seaweed, right? Wrong. There was pepper dulse, a purple, leafy plant which tasted like parsley coated in butter and garlic; then there were sea capers, like the stuff in jars or on a pizza but much more juicy. After that we got to sea spaghetti which looks like its name suggests. With strips of kelp, Jayson boiled it up on a fire and fried off some bacon, mushrooms and wild garlic. "That was the best lunch I have ever had," said the teenager daughter who is not always the easiest to impress.
Back at Elie Holiday Park it was time for a game of pool, or actually many games of pool in the Smugglers' Cove Games Room. After all that exertion coffee was needed the next morning from the Mirador Café and Takeaway before we embarked on a bit of exploration of our own – this time clambering on the rocks and walking along some of the coastal path.
The days passed in a blur and on leaving we decided we would be returning soon, or maybe to one of Abbeyford Leisure's other parks in St Monans and St Andrews.
Find out more
Nick and his family stayed in a Castaway Forest Holiday Home at Elie Holiday Park. 
Find out more about seaweed foraging and wild cooking workshops at East Neuk Seaweed.
Words by Nick Drainey