Swinging into action for Macmillan Cancer Support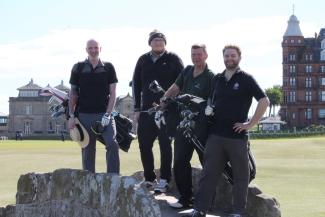 144 holes. 55 miles. 700+ golf shots. 15,000 calories burned. And that's per person in just 48 hours!
Although their surnames may suggest otherwise, there's Reilly nothing Little or Small about the mammoth task that awaits them as St Andrews Holiday Park General Manager, Geoff Little, explains:
Teeing off at daybreak with the larks and finishing at dusk with the bats and owls for eight rounds of golf, back-to-back over two very long days, regardless of the weather is not everyone's idea of fun - but we're up for the challenge."
Pictured above: From left to right, Stewart 'Stu' Small, Allan Reilly, Abbeyford Leisure's Geoff Little (General Manager, St Andrews Holiday Park), Callum Little.
"2020 was clearly a write-off for charities and Covid might have halted our consecutive-run of fundraising for Macmillan Cancer Support, but as a group we have agreed to make it up this year with an even tougher target of £1,000.
"In 2019 we challenged ourselves with the St Andrews' courses. This year we'll be starting Day 1 on home turf at our Burntisland course before moving along through to Kinghorn, Thornton and Kirkcaldy. On Day 2 we'll tackle four different courses in St Andrews finishing at the Fairmont's Torrance Course just before midnight on Tuesday 22nd June 2021.
"I won't sugarcoat it. We aren't the most talented, athletic, or even intelligent people. But we are hoping that's what pulls at your heartstrings here; because along with everyone else MacMillan Cancer Support felt 2020 too. We are trying to do our bit to help them out, as they help so many families every year. So, for just the cost of one beer (which we actively encourage you visit a locally owned establishment to enjoy safely) you can put a smile on four very ordinary people's faces.
"The global pandemic has hit a lot of charities hard so we hope that our efforts will go some small way to help MacMillan Cancer Support continue to provide vital support to families affected by cancer, whenever they need it."