Have you met Hamish the rhino?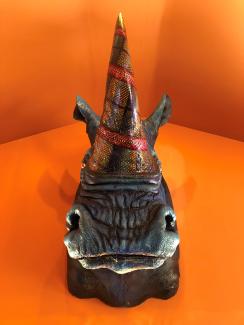 Located close to the grasslands and dense, lowland forests around Shell Bay, a new member of the team has been spotted poking his nose in at Elie Holiday Park. Have you seen him yet?
Pictured above: Hamish the rhino in the Kincraig View Restaurant, Elie Holiday Park
He's big, he's bold and blue, but unusually very quiet for a rhino!
We are, of course, talking about Hamish, the new rhino sculpture taking pride of place in the Kincraig View Restaurant.
Found abandoned and homeless a few months ago, the sculpture was recovered from a reclamation yard by Abbeyford Leisure.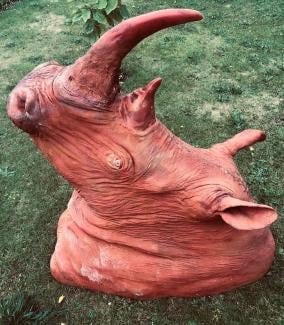 But after some much needed TLC by talented local artist, Rio Rose Moore, Hamish now enjoys a new home by the sea, surrounded by happy people.
"The whole process of restoring the rhino took about a month," says Rio, the Dundee-based sculptor and founder of Kitchimama.
The brief was very much Scottish; to incorporate a Saltire and to work tartan around the horn. I've got a real thing about Scottish mountains and glens and the colours within them, so I've tried to bring them through into the tusk - it's much more like a tweed and each colour is supposed to reflect the natural environment. The blues are classically Scottish, but I wanted to capture the purples of the heather and blend it with the indigo hues of the mountains."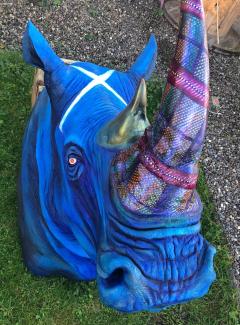 The sculpture, which weighs around 100kg, is made from fibreglass and resin and had to be tackled in stages, explains Rio: "Because the internal central line had to be mended and bits like the ears had to be patched-up, he needed to be sanded down and filled several times before applying the base coats of paint. So much of it is working around the sculpture, I try to figure out what character they are and respond to their actual form - you can't just do that in a one go and I wanted the Saltire to be part of the rhino and not just slapped on top."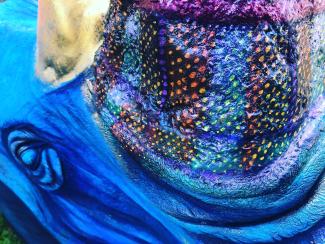 Rio is no stranger to large-scale sculpting projects and was recently commissioned by RZSS Highland Wildlife Park to create a colourful giraffe. She also created the David Bowie Oor Wullie and is the artist co-ordinator for Scotties by the Sea 2023 art trail.
"All my neighbours were fascinated and kept coming by and saying, 'what are you working on now?', he became a bit of a local celebrity for a while," laughs Rio.
"I would describe Hamish as determined, forceful, a bit like a rugby player, quietly strong. I hope visitors to Elie Holiday Park take him to their heart. We really enjoyed having him around, he does have a character, so I hope everyone loves having him in their environment."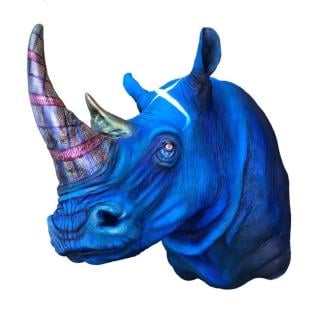 Award-winning holiday parks
Book with confidence knowing that we've been creating smiles for over 70 years.