NHS staff make a beeline to new hospital garden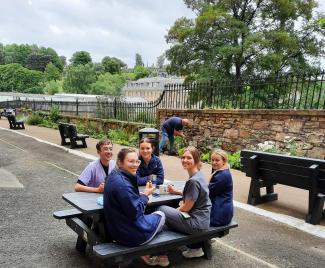 An Abbeyford Leisure employee is helping to create a buzz in the newly developed gardens of Glasgow Royal Infirmary (GRI), one of Scotland's busiest hospitals.
Pictured above: Staff from Glasgow Royal Infirmary enjoy a break in the hospital's new Bee-Road garden. 
In his spare time, Senior Sales Executive, Tom Moore, has joined a colony of other budding volunteers to help transform a strip of land on the side of the hospital so that clincical teams can enjoy a break away from the hustle and bustle of busy wards and NHS departments.
Known to GRI staff as the 'Bee-Road' (due to its location next to the working bee hives managed by charity, the Friends of Glasgow Royal Infirmary), the new garden, which has been supported by volunteers, is beginning to flourish and is proving to be a haven for wildlife and a real honey pot for NHS staff.
Green-fingered Tom said:
I've been volunteering for over a year and it's incredibly heartwarming to see the hospital workers enjoy the garden we've created. We're a small army of around 20 volunteers and the difference the outdoor space makes to people's wellbeing is immeasurable. Doctors, nurses, porters and support staff all come and benefit hugely from spending just a few minutes in the garden.
"I've grown many of the flowers myself from seed including cornflowers, giant daises, fuchsia, marigolds and sweet william and the bees can't get enough of them."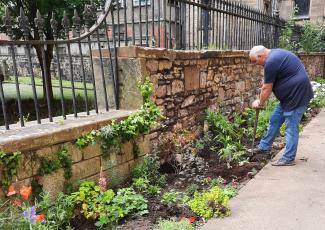 Associate Chief Nurse, Trisha Myers, said: "Years ago the garden was actually a glass covered corridor connecting the hospital and nurses' home. Now, with the help of volunteers like Tom, we've completely transformed the space into a green oasis complete with five bee hives. You can almost forget about the thousands of vehicles trundling along the nearby M8!
"We've invested in seating benches and picnic benches and have more on order. It has proved to be a very worthwhile thing to do for staff as all areas had capacity in their rest rooms greatly reduced due to social distancing, previously leaving many staff unable to find a place to have a break.
"We're also donating soil/compost and plants we have grown and as any keen gardener knows, there's always work to be done, so we're looking to gather funds to further develop the areas. We really appreciate the kind donation from Abbeyford Leisure and of course the hardwork of Tom and his fellow volunteers and hope that the garden continues to bloom."