Staycation '62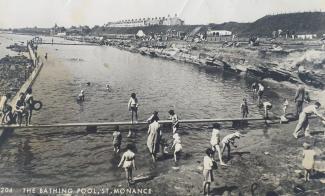 In today's fast-paced digital age, there's something magical about taking the time to slow down, to step back into yesteryear and to reignite the embers of distant childhood memories when life was arguably much simpler.
But today's technological advances and intricate social networks do have their place and can bring people and shared memories together.
That's what happened when Robert Wilson uncovered an old family cine film. And little did he know that it would also lead to him walking in his own footsteps some 60 years later.
Rewind to 1962.
We're talking about a time when the Beatles were forming, a time when man was yet to land on the moon and a time when cheap package holidays to the sun were still a decade away.
Nobody knew what a 'staycation' was but plenty of people did it, including the Wilsons, a working-class family from Greenock - a shipbuilding town set on the bustling south bank of the Clyde - where the river ends and the firth begins.
"I was only seven years old at the time but I do remember the East Neuk of Fife being a lot different from industrial Greenock where I was born and brought-up," says Robert.
"Dad worked in the shipyards and came home in dirty boilersuits and I played in old buildings and on derelict land with the other kids. St Monans seemed like a different world!
"Dad had managed to save enough money to buy a car – I think it was an Austin Cambridge – that took us to the far east of the country; to St Monans! It must've been one of our first family holidays. The sea air was amazing. Everything seemed so clean and smelled so fresh compared to our hometown, but the seagulls were the same," chuckles Robert.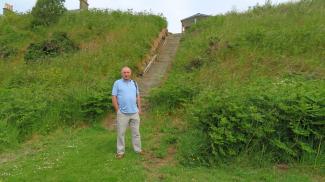 Fast forward to 2020.
I stumbled across my late father's cine film about St Monans and had the footage converted into a digital file that I could edit and upload to YouTube. Soon after I was contacted by a lady from a Facebook group called 'St Monans: Old Photos, Memories and Family History of Its Folk' and was asked if I would post it to the group.
Smiling, he says; "It was great to receive so many positive comments and thanks from people who remembered, or had heard of the big slide and the wonderful St Monans pool from the 60s. So when I happened to comment that I hadn't been back to St Monans for exactly 60 years, a member of Abbeyford Leisure team got in touch," recalls Robert.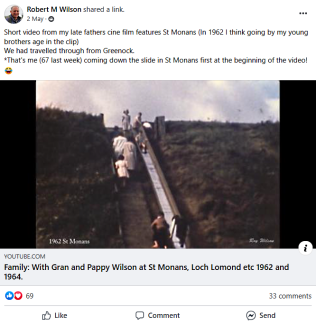 "They operate three holiday parks in the East Neuk of Fife, including St Monans Holiday Park which overlooks the site of the famous slide and tidal pool that I enjoyed so much as a young boy. I was blown away when they invited my wife and I to enjoy a long weekend at their park.

"Sylvia and I stayed in one of their amazing holiday homes in June 2022 – a Castaway Vista – which had incredible views from our veranda across St Monans tidal pool, St Monans windmill and the Firth of Forth. The caravan was just immaculate, well equipped, very comfortable and set above the beautiful Fife Coastal Path. I spent the weekend wandering down memory lane and there were so many highlights. I retraced my younger footsteps to discover where the famous slide (or chute as many call it) had once been. Although long gone, the steps up to the slide were still there and I was soon whisked back six decades remembering the fun of the slide and the thrill of the tidal pool.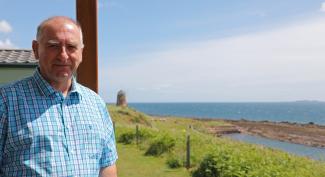 "I'm sure I spent quite a bit of time on the large slide as I thought it was brilliant. I remember playing in the sand and running along the grassy seafront and kicking a ball about with my dad – it always seemed to be sunny. Back then the windmill was a ruin as far as I know. We visited St Monans harbourside and watched the fishing boats come and go.
"The holiday park wasn't there in those days. We stayed in a local guest house with my mother (now 92), late father, my younger brother (who was 2 at the time) and my grandparents who shortly after emigrated to New Zealand.
"We packed a lot into our weekend trip down memory lane and as I'm a keen photographer, the East Neuk provided lots of opportunities to take some snaps. On the Friday night Sylvia and I took a stroll along the sea front and enjoyed an excellent dinner at the East Pier Smokehouse. As the name suggests it's right on the harbour and the food and sea views were incredible in equal measure.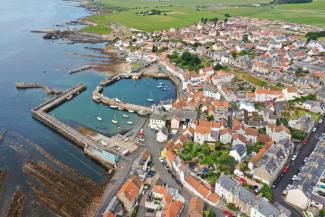 "Over the next couple of days we took a leisurely drive along the coast stopping off to explore other lovely East Neuk villages including Anstruther, Pittenweem and Crail before winding our way up to St Andrews and the wonderful beach at East Sands. Abbeyford Leisure's St Andrews Holiday Park overlooks the beach so maybe we'll take a wee holiday there next year. On Sunday we headed west and over the bridge to South Queensferry where we took a very enjoyable and informative boat trip on the Forth, meandering under the three bridges, out to Inchcolm Island and back again – it was breathtaking!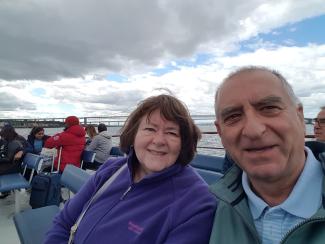 "I'm not quite sure what my dad would make of YouTube, Facebook and all the other social media channels that we have today, but I'd like to think he'd be smiling knowing that so many folk have enjoyed seeing his cine film of days gone by."