Stay in one of Scotland's top five villages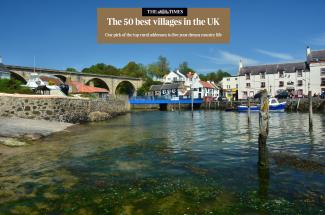 A Fife fishing village has been named one of the best in the UK. Lower Largo is one of just five villages in Scotland to make the list of the 50 Best Villages in the UK, as compiled by Tim Palmer in The Sunday Times. The picturesque village, which is also the birthplace of Alexander Selkirk - the original castaway that inspired Daniel Defoe to pen the Robinson Crusoe novel - has been listed among the best places to live in the UK.
The Sunday Times reports the average house price in this Fife idyl is around £212,429.
Other villages listed in Scotland include Gullane in East Lothian, St Boswells in The Borders and Moniaive in Dumfries and Galloway.
Recognising the Lower Largo's connection to Robinson Crusoe, The Sunday Times reports that "you'll never feel lonely in this unsung treasure in the East Neuk."
There are miles of sandy beaches and rock pools to enjoy all year round, a week long arts festival in August, and a double act of great pubs. There's fierce local pride here, with beautifully kept gardens and brightly painted houses lining the narrow streets."
The village's three nearby golf courses are highlighted too. Lundin Links is home to the oldest ladies' course in the world, and Dumbarnie, a new championship course can be found close by nestled between Lower Largo and award-winning Elie Holiday Park.
Even if you're not looking to relocate to Lower Largo, you can certainly experience all the area has to offer on a short break or longer holiday. Popular with those exploring the Fife Coastal Path, many visitors choose to stay in one of the cosy Robinson Crusoe Retreat Cottages which lie on the original site of the 1676 birthplace of Alexander Selkirk. Set just a few strides from an expansive beach, the holiday cottages are home to arguably the village's best visitor attraction - a life-sized statue of Selkirk, standing tall, clad in goatskins and gazing across the horizon. There's also a signpost at the harbour which points to the Juan Fernandez Islands some 7,500 miles away, where Selkirk lived for more than four years - marooned as a castaway.
Families can also enjoy the magnificent Robinson Crusoe Adventure Park at nearby Elie Holiday Park.
Find out more about the Robinson Crusoe Retreat Cottages.